Current Price: $319.00
Buy It Now Price: $319.00
Bids: 0

VISIT OUR EBAY STORE
Sky-Watcher Star Adventurer Photo Package
Condition: Brand New in Original Packaging
SKU: S20520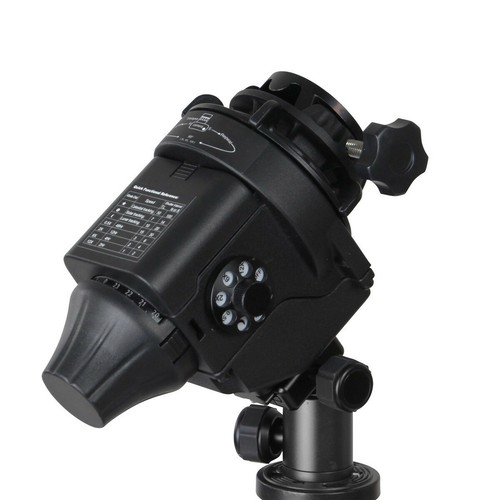 Features
Ideal for wide-field photography
Compact travel mount
Seven preprogrammed tracking speeds
Illuminated polar finderscope
Vixen-style saddle plate
Slew around freely while maintaining tracking
No need for an intervalometer timer
Camera interface with automatic shutter control
Built in Auto-guider port (ST-4)?
Product Description
The Sky-Watcher Star Adventurer is a user-friendly and multi-function mount to satisfy all your needs for astronomy, astrophotography and time-lapse photography. It is a high precision, portable and stable celestial tracking platform for sidereal, solar and lunar tracking with automatic DSLR shutter release control. Also, it contains preprogrammed parameters assisting you to create interesting time-lapse videos with your DSLR.
Ergonomic
Whether you're looking for a tracking platform to capture widefield images of the Milky Way, or seeking a compact travel mount, the Sky-Watcher Star Adventurer is a necessity for astrophotographers of every skill level. This high precision, portable celestial tracking platform can transform almost any tripod into an equatorial mount, assisting photographers with long exposures of the night sky. The Star Adventurer breaks from the mold of traditional equatorial mounts with an abundance of add on accessories to complement wide-field astrophotography, nightscape images, telescope slewing or time-lapse photography.
Incredible
Using seven preprogrammed tracking speeds, photographers can choose between sidereal, solar and lunar, or four additional tracking speeds from 0.5x to 12x, useful for time-lapse videos. Even for users with no polar alignment experience, the Star Adventurer is easy to setup using the built in polar scope with illuminator. Once aligned, users can attach their camera and activate sidereal tracking to start photographing the Milky way.
Easy Integration
The declination assembly uses a specialized Vixen-style saddle plate for attaching cameras, tripod heads, or optical tubes. Attaching a ball head to this Vixen style plate provides most users with enough flexibility to slew around the sky freely while maintaining tracking. The Star Adventurer tracking platform can attach to a tripod using a 3.8"-16 thread and includes an adapter for ¼"-20 thread sizes.
Automatic
No need for an intervelometer timer with the Star Adventurer! With a 60-second preset exposure setting, the Star Adventurer can trigger a DSLR using the auxiliary shutter release cable. Once the camera is plugged into the mount and a shot is fired, it will continually shoot 60 second exposures until the cable is removed.
For astrophotographers seeking perfectly round stars, the Star Adventurer also comes equipped with a standard ST-4 port, allowing users to connect an autoguider with a lightweight guidescope to the mounting assembly bar. With a payload capacity of 5 kg (11 lbs), the Star Adventurer can mount a small guide scope and camera for tack sharp wide-field photos, or a refractor for visual observing.
What's in the Box
Skywatcher Star Adventurer Astro package
Polar Scope Illuminator
Ball Head Adapter
Two Year Warranty
Specifications
Includes: Star Adventurer, polar scope illuminator, ball head adapter
Power Requirements: External mini-USB power support or 4 AA batteries
Motor Drive: DC servo
Tracking Rates: Sidereal, ½ sidereal, solar, lunar, time-lapse photography: 12x/6x/2x rev.
Mounting Threads: ¼-20 or 3/8
Saddle Type: Vixen-style dovetail
Weight: 3.63 pounds
Payload: 11.0 pounds
Shipping
Payment
Returns
Feedback
Shipping for this item is free in the Continental US Lower 48 states only. Shipping Fees include all handling & insurance.
For Domestic Shipping to the Lower 48 States: All shipping prices include shipping, handling and insurance (if necessary).
For Domestic Shipping to Alaska, Hawaii, Puerto Rico, US Territories, APO & FPO: For many items to these destinations there will be an additional shipping fee. The shipping costs may be calculated on the Shipping and Payments tab by entering your Zip Code. Free shipping is for the lower 48 only
For International Shipments: All international orders are managed through eBay's Global Shipping Program. Please see the Shipping Tab for full costs.
Hotels: Unfortunately at this time we do not ship to hotels.
Tax: Sales tax will be collected on all orders shipped to NY and NJ
Paypal: PayPal is our preferred method of payment for all of our eBay sales. For customer service please contact us through eBay Messages
Immediate payment via PayPal is required for all Buy It Now items. For all Best Offers, payment is required within 3 days. If you need special arrangements, please contact us through eBay messages. After your order has been shipped, you will receive an e-mail with the name of the carrier and the tracking number.
Returns are permitted if you are not satisfied with your purchase and must be initiated by the buyer within 30 days from delivery date.
For Domestic Purchases:
If you are not satisfied with your purchase, you may return it (see exceptions in Paragraph F below), within 30 days of receipt, for a refund or replacement - subject to the following:
a) Contact us through eBay messages or the returns link to receive a Returned Merchandise Authorization (RMA) number to ensure proper handling of the return and/or replacement.
b) In order to be eligible for a full refund, less shipping expenses, your returned merchandise must be in its original new condition, as shipped, with all packaging, manuals, and paperwork intact and unaltered. Items which have been opened are returnable, however they will carry a restocking fee.
c) Customers remain responsible for the shipping and handling expenses incurred in shipping the item to them. If an item is offered with "Free Shipping," this means we are paying the freight on your behalf. If that product is returned for a refund, the shipping expenses incurred, will be deducted from the refund. If an item is refused, the carrier bills us for shipping both ways, and these expenses incurred on your behalf need to be deducted from your refund
d) All returns are subject to inspection. Products returned must be in brand new condition, as per Paragraph b), if not, it may be deemed non-refundable or will be subject to at least a 15% restocking fee. If your return is missing accessory components, or shows signs of wear - restocking fees will be higher. For specific restocking fees that may be applicable to your return, please contact us through eBay messages.
e) Returns should be packed in an outer shipping carton, not just the original box/packing of the product. The RMA# should be clearly inscribed on the shipping label. A copy of your invoice and Order # should be included, and your return should be insured, with shipping costs pre-paid. We cannot accept any COD shipments.
f) There are product categories which are not returnable due to hygienic or sanitary as required by manufacturers. If your items is a consumable good or is has been locked by a manufacturer such as Apple or HP the return will not be accepted
For Warranty information, merchandise lost / any other issues in transit, or order cancellations, please contact us through eBay Messages. In an event where there is an error regarding a price error or description, we will notify you ASAP. In this event there will be no obligation to proceed with the purchase. Any amount charged to the customer will be 100% refunded.
For International Purchases:
Returns will be accepted within 30 days of the receipt of the item. In order to be eligible for a refund your returned merchandise must be in its original unopened condition, as shipped, with all packaging, manuals, and paperwork intact and unaltered. Items removed from their 'blister-pack' display packaging are non-refundable.
International Buyers must pay return shipping via the same method originally shipped.
We strive for every transaction to be five stars!
Please let us know how we can make yours a five-star rated one too!
Our goal is to make sure you are customer 100% satisfied with your order. When you receive your order take a minute to leave us positive feedback at eBay. If you are not satisfied with any part of our service we please contact us to allow us correct the problem, prior to leaving your feedback. Please send us a message through eBay and let us know how we can earn your 5 stars!
If you have any questions or comments, please contact us through eBay message.
Filed under: Eyepieces & Accessories