Current Price: $699.99
Buy It Now Price: $699.99
Bids: 0

The Kromm eBay Store
Welcome To The Kromm Store on eBay
Store Home
Our Feedback
Add to Favorites
New Arrivals
Items On Sale
Contact Us
OUR categories
Store home
Cameras & Photo
Musical Instruments & Gear
Consumer Electronics
Sporting goods
Collectibles
Computers/Tablets & Networking
Cell Phones & Accessories
Home & Garden
Crafts
Business & Industrial
Entertainment Memorabilia
Clothing, Shoes & Accessories
Video Games & Consoles
Jewelry & Watches
Why Choose Us

Snypex Knight PT 72mm ED APO Photography Digi-Scope with Hard Case
SKU: SNYPT72D
eBay Item: 264425678719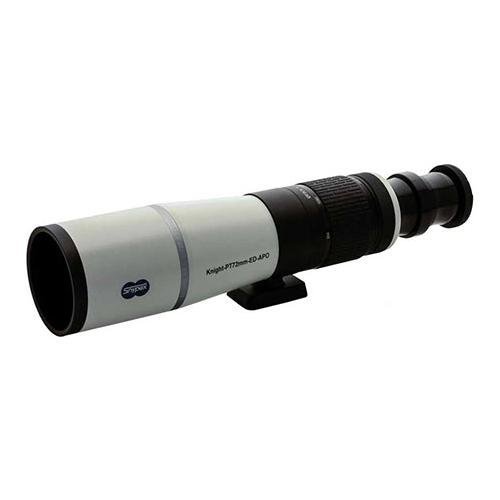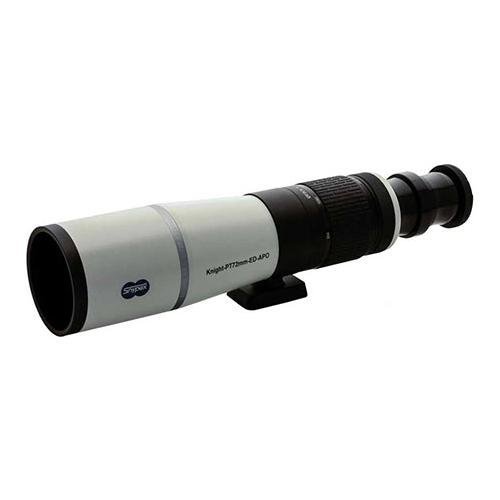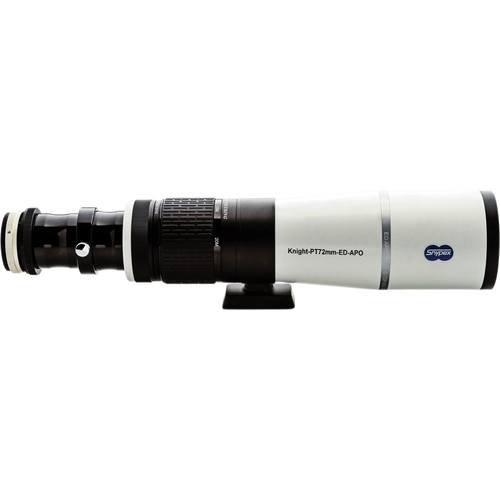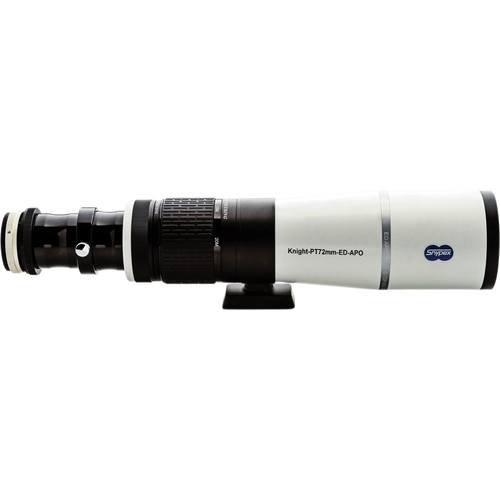 Move your mouse over image to enlarge
Item Condition:
eBay Item Condition: Seller refurbished
The KROMM Rating Classification: Slight wear:

The KROMM Item Grade Classification Table
Product Warranty Information:
PLEASE NOTE: All our products are covered under a 30-day seller warranty and don't include the manufacturer warranty, unless indicated otherwise.
Detailed Item Description:
The Snypex Knight PT 72mm f/6.0 ED-APO Photography Spotting Scope is a
powerful and versatile purpose-built optic for digiscoping with DSLR
cameras. In place of an eyepiece holder are T-mount threads for
attaching camera-specific T-2 adapters that allow your DSLR to be
properly positioned on the scope's focal plane. Extra-low dispersion
(ED) glass and an apochromatic doublet lens configuration virtually
eliminate chromatic and spherical aberrations. With these aberrations
corrected, views are seen with true high-contrast color and virtually no
distortion across the entire field of view. Anti-reflection fully
multi coated optics maximize the light entering the objective lens to
make the views bright with enhanced low-light performance. With an
optional eyepiece adapter, the scope can be used as a conventional
angled-view spotting scope.
Its aluminum housing is coated with a
chip and scratch resistant durable white paint. The focuser is based on
the familiar DLSR lens system with a large textured coarse focus ring
and a smaller 1:10 fine focus ring. The textures of the coarse and fine
focus are different so you can tell the difference by feel. To mount the
scope, there are two 1/4"-20 tripod mounts. These mounts are placed at
either end of the shoe and help you balance the weight of the scope. The
shoe has an integrated dovetail plate that fits on compatible
quick-release heads. A reinforced hard carrying case, with a custom
die-cut foam interior, is included for protection while in storage or
during transport.
Items Included:
Snypex Knight PT 72mm f/6.0 ED-APO Photography Spotting Scope
Lens Cloth
Ocular Dust Cap
Objective Lens Cap
2" Adapter
2" Photo Adapter Tube
Hard Aluminum Carry Case
Key Features & Specifications:
72mm Objective Lens
432mm Focal Length, f/6 Focal Ratio
Extra-Low Dispersion (ED) Glass
Apochromatic Doublet Lens System
Anti-Reflection Fully Multicoated Optics
White Aluminum Housing
Dual Coarse and Fine Focus Rings
Standard 1/4"-20 Tripod Mount
Integrated Lens Shade
Reinforced Aluminum Hard Carrying Case
Need assistance?
Reach out to us for excellent professional support & customer service!
Terms Returns About Contact Warranties Our Conditions Grades
Our Process:
Directly following the placement of your order an invoice will be sent to the email address registered with eBay. If an email from us has not been received, check your spam folder, if it's not there, please contact us via eBay. Contact us here via eBay
Do we accept PayPal?
YES! We accept PayPal payments from all countries. Please be advised PayPal payments may be subject to verification to protect against fraudulent accounts.
Alternate Billing/Shipping Address:
If your shipping address is different than your billing address, certain verification will be necessary. On payments made through credit card with an alternate shipping address, Kromm will request a secondary address to be listed with the issuing bank.
What happens if we need more verification?
If we require further verification, we will send you an email at the email address registered with eBay, or contact you at the phone number provided.
Kromm Store reserves the right to refuse orders which the address, phone number or credit card cannot be verified.
International Orders:
International orders may be subject to local import fees, duty, customs, VAT charges or additional taxes, depending on the country of destination tax laws.
Kromm Store is not responsible for any of these tax charges, nor can we offer any specific advice on import fees, duty, customs, VAT or taxes that you may be obligated to pay upon the arrival of your merchandise. Should you have any questions or requests for specific information regarding any of these potential charges, we advise you to consult with your local government import office.
How long does it take from when I order for the shipment to leave the warehouse?
We usually process all orders within 24 hours of receipt of payment, barring any verification delays.
SHIPPING TERMS:
We ship with tracking numbers using the following companies: UPS, USPS, and Fedex.
We ship worldwide, to APO/FPO addresses included. Merchandise will be shipped from our warehouse promptly after verification of your information and that your payment has been cleared and completed.
Upgraded Shipping Available:
Please note that this option is available upon request. Please contact us for further information.
Packages above a minimal price may be subject to a signature upon delivery. Please make your arrangements accordingly.
NO HIDDEN FEES APPLY.
When returning an item you must contact Customer Service via eBay to obtain a Return Merchandise Authorization Number (RMA#) prior to returning the item. Contact us here via eBay
We can only accept a return if it is returned to us in the in same manufacturer's packaging, same condition as sold, and with all literature/instructions/documentation and blank warranty cards.
Place the item's box into a shipping carton. Please do not place stickers or shipping labels on the original manufacturer's packaging.
The customer is responsible for arranging the return shipping and for its costs. For your protection, we advise that you should please insure the package and ship via a traceable method.
Our 30-day exchange policy applies to items received in defective condition. For return authorization please contact us via phone or email within this time frame. Merchandise shipped back without an RMA will be returned at the buyer's expense.
Please note - A package refusal will be recognized as an unauthorized return in which a 5% restocking fee, as well as the cost of the returned shipment, will apply.
Items that are shipped free, if returned, a refund less our original shipping cost will be given.
eBay sales are final! A 5% handling and processing charge will apply for orders that are returned.
The Kromm Store on eBay is a division of P4L and is known for providing cameras and photography equipment for the professional photographers' industry since 2005. Although we specialize in professional photography equipment we carry a large selection for the amateur photographer as well.
We attribute our success to our competitive pricing and to our high standards of honesty and integrity. We stand behind our products as being the top quality that customers expect to receive. Our high standard of honesty has gained us a respectful reputation in the photography industry and has earned us many repeat and friend referred customers.
When browsing our store, keep in mind that our friendly and knowledgeable staff are always ready to help you in finding the right equipment. So browse at ease and enjoy the widest selection of cameras, camcorders, printers, scanners, lighting equipment, tripods, lenses, flashes and much more.
At "Kromm Store" customer satisfaction is our top priority. We love our customers and are eager to leave positive feedback once payment has been finalized.
We are confident that our customers will feel the same about us and express so by leaving us a 5-star rating on eBay.
Please note: The images of some accessories may not reflect the actual item shipped. At times, we may substitute accessories for similar ones of equal or greater value.
We want to better serve you, please call us. We are open Monday through Friday. To speak to a live representative, contact us via eBay.
Hours of Operation: New York (EST)
Monday - Thursday: 10:00 AM - 5:30 PM
Friday: 9:30 AM - 1:00 PM
We are closed on weekends & holidays.
For around the clock communication please send us an email anytime.
Contact us here via eBay
We will get back to you very shortly.
If the item listed comes provided with a manufacturer warranty, we will specify this information in the Product Description area.
You can contact us for detailed warranty information and options.
New:
Item is brand-new, unopened in the original manufacturer packaging and comes with all the accessories and warranties etc. (where applicable).
Refurbished:
Item was reconditioned by the manufacturer. Includes all original manufacturer accessories and may come in non-retail packaging.
Open box/demo:
The box has been opened since the item was used for demonstration/training purposes or for shelf display. The item has never been pre-owned. Includes all original manufacturer accessories but may be missing packaging.
Slight wear:
Item has been taken out of the box and may have been used for a limited time. May have little or no signs of wear. Includes all original manufacturer accessories and may be missing original manufacturer packaging.
Moderate wear:
Item is used, though fully functional, with moderate signs of wear and may come in non-retail packaging, and may be missing original manufacturer accessories. There may be slight scratches and/or blemishes.
Well used:
Item is well used, though still fully functional, May comes in non-retail packaging, and may be missing original manufacturer accessories. There may be some noticeable signs of wear, like scratches, dents, blemishes, etc.
Heavily used:
Item is fully functional, though heavily used. May show signs of wear and use like scrapes, scratches, cracks, and/or heavy brassing. Comes in non-retail packaging, and may be missing original manufacturer accessories.
Usable w/ malfunction:
Item is usable, but has considerable optical or mechanical imperfections. May come in non-retail packaging and may be missing original manufacturer accessories.
For parts only:
For parts only, item not in usable condition.

Add us as your favorite Seller

Sign up for our newsletter
Click here to Subscribe to our Newsletter.
Get all the Latest News, Updates and
Special Offers about Our eBay Store.
ALWAYS EXPECT A GREAT DEAL!
Check Our eBay Store Daily!
Payment options
We accept PayPal & we are Verified.
PayPal allows you to use all types of
credit and debit cards:
Our eBay Store
Our Feedback
New Arrivals
Contact Us
© Copyright 2018 by The Kromm Store. All rights reserved.
Tagged with: Amateur Astronomy • astronomy • telescope
Filed under: High-End Telescope Auctions (USA)