Current Price: $156.12
Buy It Now Price: $156.12
Bids: 0

Fast
Shipping
Hassle
Free Return
eBay Money
Back Guarantee
Pay With
Confidence
SolarLite Solar Filter for Telescope, fits Celestron and Meade 8" Schmidt Cassegrain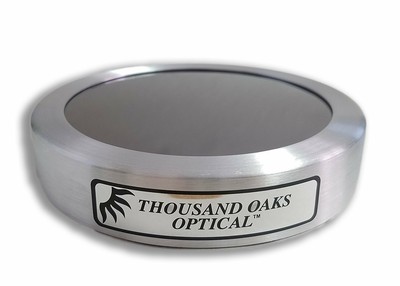 236mm9.312" SolarLite Filter for 203mm8.00" instruments. This filter should fit the following models: Celestron and Meade 8" Schmidt Cassegrain and instruments of similar outer diameter. (Will not fit the Meade Light Switch 8" S/C due to the OTA arm). Part number S9187.
Please read carefully: 236mm9.312" is the diameter of the filter. The filter fits like a cap by friction. To be absolutely sure that the filter will fit, please measure the outer diameter of your instrument and make sure that it is not larger.
SolarLite filters have the optical quality of the glass with the advantages of impregnated polymer (Thousand Oaks Optical Black Polymer). The sun will appear in a natural yellow-orange color when viewed through your telescope using this filter.
This is a high quality product of Thousand Oaks Optical (Arizona), a manufacturer of safe solar filters for over 30 years. Words of the producer: "Stronger than any other solar film on the market. Safe for 15 years."
WARNING: ALWAYS MAKE SURE THE FILTER IS WELL ATTACHED TO THE TELESCOPE/BINOCULARS/CAMERA. IN CASE NECESSARY, USE STICKY TAPE TO SECURE IT. NEVER OBSERVE SUN WITHOUT A PROPERLY ATTACHED FILTER.

Our Products:
Enjoy Big Deals for Our Discounted Products.

? our products enabling our customers to purchase top quality products at discounted prices.
? just to let you know that we are a third-party seller and we exist to provide the best customer services experience for all our customers, as we stand behind our products once they leave our supplier doors.
? As mentioned, this item is store return (Item sold and returned from buyer) inspected but not tested, Many of the products are therefore like new, having not been used at all, or only slightly used.
So, If there's something wrong with your product, you are more than welcome to return the item for a FULL refund, we will provide you with the prepaid return shipping label for FREE so you drop the item off on your closest UPS location, or even if you prefer that we can arrange a UPS pickup to return the item for FREE, if so, no worries about printing the return label, they will bring one for you.
? We do not offer product exchange or just ship missing parts, We only offer FREE return products for a FULL REFUND.
? Orders are processed immediately and dispatched to fulfillment as soon as it's placed. For this reason, we are typically unable to honor cancellation requests or change the shipping address. In that case, you can wait until you receive the item and go through the normal returns process.
SHIPPING
? All items are in stock at the time of listing; however, in the unlikely and unforeseen event that we are unable to fulfill your order through any of our supplier's networked warehouses, we will notify you as quickly as possible and offer you a 100% refund on your purchase.
?Our stock all ships from our US-based warehouses.
?We ship to the lower 48 contiguous United States only.
?We provide FREE URGENT shipping Method, Most items should be delivered within 3-5 business days, Check our feedback to see the great reviews of FAST shipping we offer.
?We do not ship to P.O. Boxes or APOs.
?Shipping is always FREE
PAYMENT
PayPal is our preferred method of payments it's the quickest, easiest and most secure way to pay for your goods or services online. PayPal offers buyer and seller protection should there be a problem. If you do not have a PayPal account, to get started and buy your first item with us is very easy. Simply click on the 'Buy It Now' button and follow the eBay checkout steps. Select PayPal as the payment method you then will be given the chance to enter your card details in to PayPal's secure checkout in order to pay for your order. Once the payment has been made, you will then be given the opportunity to make your own PayPal account to make paying for your items in the future very easy. Should there be a problem with payment please do let us know.
Returns
?If you are not 100% satisfied with your purchase, you can return the product and get a full refund
? You can return a product for up to 30 days from the date you purchased it. Any product you return must be in the same and packaging condition you received it. Please note that we cannot give refunds or replacements after the 30-day limit has expired.
Contact
If you have any queries, please contact us via eBay. We usually respond within 24-72 hours on weekdays.
Payment Options
Shop With Confidence
Filed under: Eyepieces & Accessories