Current Price: $37.52
Buy It Now Price: $37.52
Bids: 0

:: eBay Listing Template ::

Solomark Telescope Alignment 1.25" Next Generation Laser Collimator SKU_QHCE001
Product Gallery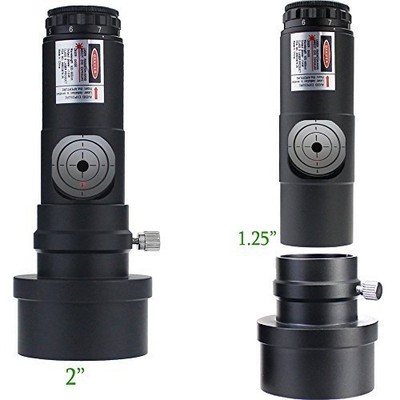 Item Description
With this Laser collimator get the best image from your telescope you need to align your telescope regularly and this high quality laser collimator is an essential for this purpose.
1MW or 5mw red laser Seven adjustable brightness levels 1.25inch size and comes with a attachable 2"adapter.
To use for all reflective telescopes 45 degree reticle plate made of aluminum for easier visual accuracy
Features
Red laser collimation beam with 7 brightness levels
Can fit into 1.25" focusers or diagonals
Wavelength 635-655 nm; Output power: less than 5mw, much safer for your eyes
CR2032 Lithium Cell battery(not include); 7*24 hours customer service, please buy with confidence
With Removable 2" adapter; Built with metal material
Additional Information
Manufacturer: SOLOMARK
Shipping Weight (pound) : 0.4
Shipping Dimensions:
Width: 3.60
Length: 8.60
Height: 2.40
Delivery information
We ship all our stock from our warehouses around the US. All items are shipped by USPS, UPS, FedEx or any other carrier, depending on the size/weight of the package and delivery location. A whopping 90% of our orders are shipped within 1 business day, and 99% within only 2 business days.
Refunds and Returns
We have a 30 day return or exchange policy for all our products, unless specifically noted otherwise. When returning an item make sure you include all accessories, packaging, etc., otherwise we won't be able to accept the return. If an item is defective we will pay for the return shipping fees. After 30 days, if the item comes with a warranty, you can contact the manufacturer regarding defects.
About us
We've been selling on online marketplaces for many years now, and still enjoy it as much as the very first day. Being able to provide an excellent customer experience is a great feeling, and we take pride in the number of people we make happy every day.
Our Guarantee
We've been in the eBay and e-commerce business for a long time and know that customer service is paramount to a successful long-term business. We will always try to help you to the best of our abilities. In case you do encounter a problem with your order, please let us know and we'll do what we can to make it right.
Contact Us
In the rare event that you have an issue with your product or our service please contact us by email to share your concerns, we will respond within 24 hours to help to rectify the problem.
Filed under: Eyepieces & Accessories