Current Price: $22.31
Buy It Now Price: $22.31
Bids: 0

SVBONY 1.25" 2x Barlow Lens Doubles the Magnification Multi Coated Broadband Green Film with M42 Thread for Standard Telescope Eyepiece Astronomy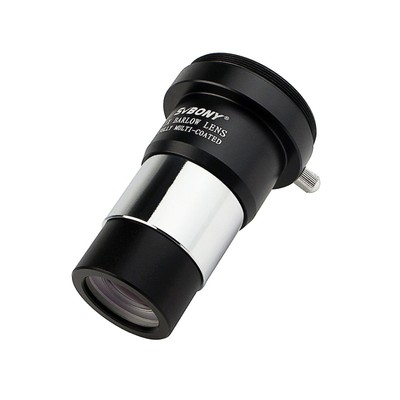 Description
Size:2x High magnification for eyepieces to see more details of the moon;bands
of Jupiter clearly;SVBONY 1.25" 2x Barlow lens is a better choiceIt's easy to
use;simply insert the eyepiece into Barlow lens;then insert the Barlow lens
into the scopeThe Barlow lens also could provide more magnification without
reducing the exit hole on the eyepiece;it keeps a comfortable observation with
wide viewMain Points:2x magnification with 1.25" interface:Doubles the
magnification of any 1.25'' eyepieceInterface with M42x0.75 thread:With
T/T2(M42x0.75mm) male thread for T/T2 connectorsQuality aluminum stock and
black anodized body:Precision machined;sturdy for a long term use2 element one
group optical glass:High quality observation without introducing additional
chromatic aberrationMultilayer HD broadband green film optical glass
lens:Chromatic corrected;high transmittance to achive clear;sharp viewsSafety
undercut and brass compression ring:The eyepiece barrels will not be marred by
the captive set screwCommon sense:Barlow lens' role is not just to improve the
image quality;it's also play an important role of viewing comfortableEven a
well made Barlow will little damage on the imaging qualityWhen the Barlow lens
and eyepiece using together;if the magnification is higher than the maximum
effective magnification of the telescope itself;the Barlow lensobservation
effect appears nearly zero or blurredIn order to reduce the influence of
imaging 2x and 3x is a better
choiceSpecification:Diameter:1.25"/31.7mmMagnification factor:2xLens
material:pure optical glass lensLens coating:multilayer HD broadband green
filmSleeve material:metalThread
interface:M42x0.75Length:2.9"/7.5cmWeight:3.14oz/89gPackage Include:1xBarlow
lens2xdust caps
Features:
The value must have 2x barlow lens doubles the magnification of any 1.25 inch eyepiece;double the capacity of an existing set eyepieces at the cost of a single eyepiece
The apochromatic barlow lens provide a high power magnification allow you look more closely and more detailed at the moon's surface and other planet
2 element one group broadband green film multi coated optical glass;the housing is blackened to maximize image contrast;both that gets high quality observation without additional chromatic aberration;make image more crisp and sharp
Quality aluminum stock and black anodized body with M42x0.75mm thread;work as a t adapter;connect DSLR or SLR camera to telescope easily via a separate sale t ring adapter
Connect DSLR SLR camera to telescope easily;the T ring adapter you buy separately depending on the model of camera
Product Details:
Product Dimensions: 3.7 x 1.9 x 1.9 inches
Item Weight: 4 ounces
Shipping Weight: 4 ounces
Item model number: 4331908542
Payment

We accept Paypal payments only. Sales tax may be applied to your purchase. Please check your cart before submitting payment to determine whether or not we charge sales tax for your state.

Delivery

Standard shipping is free with a handling time between 1-2 business days. Your order should arrive within 3 - 5 business days once its shipped. If you need your item quicker, we offer a faster shipping method available upon checkout. We do not accept requests to change shipping addresses post purchase. We don't ship to AK, HI, PO boxes, or APO addresses. We are not responsible for any incorrect or undeliverable addresses. We only ship to the confirmed Paypal address. Please note that manufactures update their packaging from time to time and that the packaging images shown in our auction may vary from what you ultimately receive however be assured you are receiving the identical contents you ordered regardless.

Return Policy

You may return new, unopened items within 30 days of delivery for a refund, and a restocking fee may apply to your return. Return shipping fees are not refundable. Message us for return instructions if you have further questions.

Support and Feedback

We take our reputation seriously! If you are unsatisfied with your order, please contact us and we'll work with you to resolve it to your satisfaction. Contact us via eBay messaging and we will respond within 1 business day. Our office hours are 8AM-4PM PST Monday-Friday.

Filed under: Eyepieces & Accessories