Current Price: $64.64
Buy It Now Price: $64.64
Bids: 0

:: eBay Listing Template ::
SVBONY Filter for Photography Broadband CLS Filter for Astronomical Observation Photography CCD Cameras and DSLR (2 inch)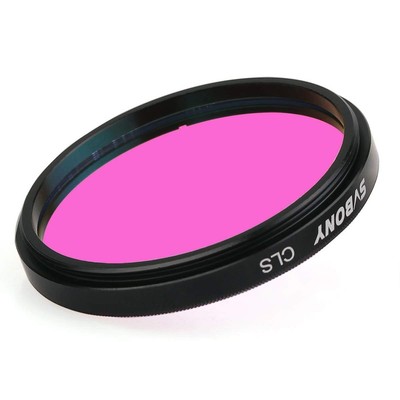 item description
Size:2 inch SVBONY city light suppression broadband filter is designed to
improve the visibility of various deep sky objects;By selectively reducing the
transmission of wavelengths of light pollutants;specifically those produced by
artificial lighting including mercury vapor lamps;both high and low pressure
sodium vapor lights and the unwanted natural light caused by neutral oxygen
emission in our atmosphere;such as sky glow Together with the highly
transparent in main nebula emission lines at OIII 496nm and 500nm;H-beta
486nm;NII 654nm and 658nm;H-alpha 656nm as well as SII 672nm;the filter is
suitable for enhancing the contrast and getting more details for both visual
and photographic purpose at sub-rural area Multi layers anti-reflection
coating Non cementing optical substrate coating Ultra-thin filter cell
minimize vignetting by maximize possible Aerometal material precise CNC
machining sand blasting Process black anodized finish extinction treatment to
prevent reflection laser engraving no fading CLS with wider pass-band than UHC
and hence is more favored when observing under mild to moderate light
pollution Light pollution filter do not eliminate the effects of light
pollution or increase the object's brightness;in many cases;they increase the
contrast between nebula and night sky;not brightening the nebula Warning: the
filters of SVBONY are not designed for sun observation;don not look directly
into the sun with SVBONY filter;otherwise it will burn the eyes
Specifications: Type: city light suppression filter (CLS Filter) Material:
optical glass lens;aluminum frame 4Shape: round Barrel diameter: 1.25 inch'
Thread: Standard M48x0.75mm Package includes: 1xSVBONY 2" CLS filter 1xsturdy
plastic case
Product Features
Product Dimensions: 2.7 x 2.7 x 0.8 inches
Item Weight: 1.76 ounces
Shipping Weight: 1.76 ounces
Make sure this fits. by entering your model number.
Electron beam gun evaporation with Ion-assisted deposition coating technology for durability and resistance to scratching;as well as stability on CWL (central wavelength) no deviation affected by temperature change
Planetary rotation system offers precision and homogeneity of coatings ensuring high value on transmission of pass band and Optical density of off-band
90% transmission of main nebula emission lines;such as Ha 656nm;OIII 496nm;500nm;SII672nm and H-beta 486nm
0.1% transmission of off-band;specifically the major emission lines of artificial light pollution;such as Na 589nm;Hg 435nmand 578nm
Suitable for color CCD cameras and unmodified DSLR Urban optical filter can effectively suppress urban harmful light and improve the contrast of shooting target
Additional information
Size: 2 inch
Brand: SVBONY
MPN: FF9155
UPC: 609378745584
EAN: 0609378745584
About Us
Shipping
RETURN
About us
We have been available to online customers, offering a variety of brand new products at great prices. All of our products ship directly from our different warehouses across the United States so you get your items quickly and in perfect condition. We know how important it is for you to get what you ordered and get it fast.
Our products are a 100% authentic and brand new. We work with the biggest suppliers of high quality products to bring you only the best items. It is very important to us that we put our customers first and you will see this reflected in every transaction with us. We consider it a top priority that our customers are happy and in the rare event that they are not, we do everything we can to fix the situation.
No customer will walk away from our store unhappy. If there's a problem, just let us know and we fix it.
We guarantee you only the best experience when shopping with us!
Shipping
? Our stock all ships from our US-based warehouses.
? Shipped via USPS or UPS (depending on location and
package weight)
? Unless stated otherwise, all orders will ship within 24 hours of
your payment being processed. Check our feedback to see the
great reviews of FAST shipping we offer.
? Shipping is always FREE!
RETURN
?? We offer a 30 day return/exchange policy for our products.
? You can choose refund or exchange if you are dissatisfied for any reason with your product.
? Only factory defects are accepted as a reason for a return. In the case of factory defects, we will replace the product for you.
? When returning an item, it must be in all of the original packaging and include all of the original accessories or items that came with it. The item and package should be in original and perfect condition.
? You will be required to cover shipping on the return of defective items.
? All returns MUST be done within 30 days of date of purchase. Please note that we cannot give refunds or replacements after the 30 day limit has expired.
? When sending in a return, please note that it can take up to 7 business days for the return to be processed. We do our best to process as quickly as possible.
? Buyers outside the U.S.A please note - ALL of our electrical appliances sold in our store are 110-120V.
? Return policy for buyers outside the U.S.A - We offer to return the items within 30 days. The BUYER will ship the item at his own cost.
We are extremely fair, and in the rare event of something out of the ordinary happening with our products or shipping, we will gladly work with you to find a solution.
Filed under: Eyepieces & Accessories