Current Price: $53.94
Buy It Now Price: $53.94
Bids: 0

SVBONY Laser Collimator for Telescope 7 Bright Level 1.25" 2" Adaptor Newtonian TelescopesNEW (IN BOX)FREE SHIPPING FROM CANADA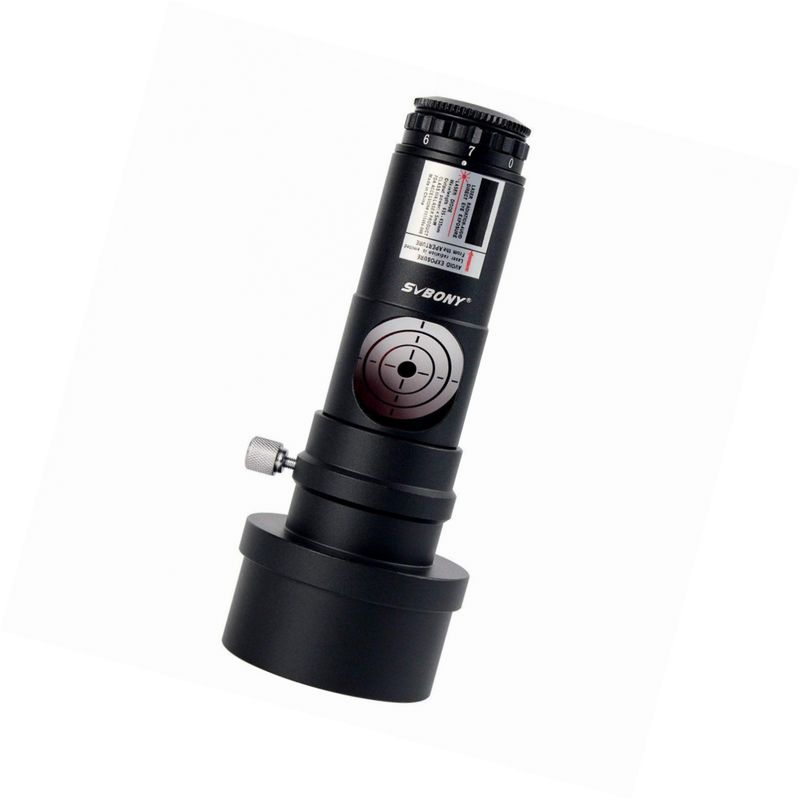 Product Features
SVBONY user adjustable laser collimator;allows anyone easily collimate 1.25'' and 2'' reflector telescopes;come with removable 2" adapter;built with metal material;make alignment no longer boring and time consuming
Super easy to use;accurate collimation in a few minutes provide a more clearer image;no longer have to go back forth;just watch the collimator from the mirror end of the scope and adjust the screws
7 brightness levels red laser beam;adjustable brightness;suit for different light conditions;amazing alignment in dark and day;so can get the better views possible from your reflector telescope
Best quality solid metal body for a long term use;CR2032 battery included and comes with a full set of instructions with a step by step procedure on how to properly align a relfecting telescope
No noticeable distortion across the view to the edges which allows you receiving excellent image
Product Description
SVBONY newest 1.25" red laser collimator includes removable 2" adapter;the triple cemented lens to improve the stability of dot;it's designed for accurate collimation of all Newtonian and SCT reflector telescopes
The laser collimator can get better image from the telescope;just insert it into the eyepiece holder;adjust laser beam level;then adjust the telescope screw until the laser beam shoots into the target central
Designed for reflector telescope
Fit for standard 1.25" and 2" diameter interface with a 2" adapter
Red laser with 7 brightness levels
Adjustable brightness making it easy to use at night and during the day
User adjustable collimator
3 collimation screws on the body to get the laser collimator aligned
Triple cemented of Lens
Improve the stability of red dot
Much easier aligned process
Watch the collimator from the mirror end of the scope and adjust the screws
Quality durable metal materials
Metal material for a long term use;included CR2032 lithium cell battery and use directly
Output power 1mw to 5mw
Much safer for eyes
The best working distance is 2m
1-5m spots will not change of shape
Wavelength:635 to 655nm
Class II laser product II
Package include
1 x SVBONY laser collimator
1 x Adapter sleeve
1 x CR2032 battery
1 x English user manual
Operation instructions
Insert the laser collimator into the telescope eyepiece;then turn on the laser calibrator
Light source brightness can be adjusted;total 7 adjustable
Compared to professional machines more simple to use;more accurate test
Warning
Don't look directly into the laser beam;permanent eye damage may result
Avoid prolonged skin exposure to laser rashes or burns may occur
Remove the battery when not use
VERO and copyright infringement:
If you are the brand or manufacturer of this item please contact us before contacting Ebay. We will do our best to verify the information and remove the possible infringement if needed. Thanks !
Shipping and Handling:
Shipping includes Tracking and we use UPS, Canada Post, Intelcom or FedEx which ever one is the fastest option for your delivery. All items are shipped the same business day. Expect 2-3 business days to receive your package
This item is located in Canada.

There are no local pickups available.

We do not combine shipping.

We do not ship internationally.
Canadian Territories:
We ship to most of Canada, However delivery restrictions may apply to Yukon, Newfoundland, Nunavut and NW Territories. Please inquire if you live in any of these locations and we will provide further shipping info.
Shipping to YT, NT, NU, NL, A0K, A0P, A0Q, A0R, and X0A-Y9Z may incur shipping charges or delivery restrictions. Please contact us before ordering or your order can be canceled
Remote and Rural areas:
Some Remote or Rural addresses may experience a longer shipping time. And in some cases we may not be able to ship to your postal code due to restrictions from the delivery carrier. Please inquire about shipping availability and times if you live in remote location.
Return Policy
Due to the intimate nature of the items we sell, we are not able to return or exchange purchased toys and products. This is for the health, safety and peace of mind of our customers.
100% Satisfaction:
Feedback is an essential part of what makes eBay a successful community.

Please remember that whenever you buy or sell something, we ask that you leave Feedback about the transaction that reflects your experience with us.

Products may be shipped from third party vendors to meet our guaranteed delivery times

We provide 100% customer satisfaction. If you have any issues or concerns with your item, please contact us to immediately through ebay messenger to resolve it.

We are here to help, please contact us through eBay messages before leaving any negative feedback. Thank you
Filed under: Eyepieces & Accessories