Current Price: $32.88
Buy It Now Price: $32.88
Bids: 0

SVBONY Red Laser Collimator for Newtonian Reflector Telescope Alignment 1.25 inches 7 Bright Levels Triple Cemented Lens with 2 inches Adapter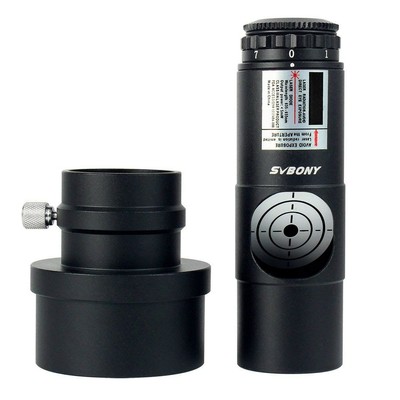 Description
No telescope can align its optical axis for a long time,
even if it is already factory calibrated. The Newtonian reflection telescope
is very sensitive to the optical axis; a slight movement of the calibration
screw can deflect the entire optical axis Its precision is so high that it
goes out in the car, the optical axis will have a small deviation, and
sometimes it will completely collapse. Even if the lens barrel is pointed
differently, the optical axis will be different. (An interesting experiment is
to point the same star through the equatorial mount, then move the equatorial
mount's right ascension axis from left to right through the field of view to
observe the optical axis. Offset). This is why you should choose a star to
calibrate, not the target of interest (Jupiter or Moon). If you observe deep
space, you feel that the slight deviation can be tolerated, and then you will
not be calibrated when you turn to planet observation. This is actually very
risky. The good way is to check the optical axis before each observation, just
like checking the mailbox and the tire before driving far away. SVBONY Laser
Collimator 1.25'' Metal with 2" Adapter SVBONY Red Lasor Collimator Using
Methods: The process of calibration is repeated (check-adjust-check-
adjust....). In addition to the following points, there is no difficulty or
risk in the whole process: - The big screw in the middle that fixes the
secondary mirror, never touch it. -The three fine-tuning screws should be very
gentle when screwing in and out, not too loose or too tight - If you screw one
of the screws out, the other two will be screwed in. - When rotating, be sure
to move small: a very irregular mirror can be rotated half a turn at a time,
but the final adjustment is still very small. - Every time the rotation, the
star will move because of this adjustment, it must be pulled to the center
again. For Newtonian reflection telescope , calibration usually takes two
steps: first adjust the secondary mirror to the appropriate position (using
the calibration eyepiece), then adjust the primary mirror It's great for a
student, you will need it when you are learning astronomy class or when
attending an astronomical society in college or school SVBONY Laser Collimator
for Newtonian Telescopes 7 Level Ajustable Brightness Beam Aim at the target
anytime,anywhere,even during the daytime can also be used normally. 7 settings
of brightness is useful and easier on the eyes and great for different areas
of light Removable 2" adapter This is a newest 1.25" laser collimator includes
removable 2" adapter;the triple cemented lens to improve the stability of
dot;it's designed for accurate collimation of all Newtonian and SCT reflector
telescopes Easy to target It is very easy to simply look at the laser target
and adjust the telescope until the red dot is centered. no need to keep
looking at the cap in the telescope's eyepiece Read more Read more Package
List: 1×SVBONY Laser Collimator for Mirror Reflector Telescopes 1×2-inch
Adapter Sleeve 1×English User manual Warning: Do not look directly into the
laser beam! Permanent eye damage may result! Avoid prolonged skin exposure to
laser rashes or burns may occur! Specification: Name: Laser Collimator Fit
Type: Newtonian and SCT reflector telescopes Body Material: Metal Net Weight:
135g/4.79oz Note: The Best working distance is two meters Read more SVBONY
SV105 Digital Telescope Camera SVBONY 68 Degree Ultra Wide Angle Eyepiece
Set(6mm 9mm 15mm 20mm) SVBONY 66 Degree Ultra Wide Angle Eyepiece Set (6mm 9mm
15mm 20mm) SVBONY Wide Angle 72 Degree Eyepiece 18mm New Generation model
makes the spot shape a dot Adjustable Collimation Eyepiece SVBONY Universal
Cell Phone Adapter Support Eyepiece Diameter 25 to 48mm
Features:
SVBONY user adjustable laser collimator;allows anyone easily collimate 1.25'' and 2'' reflector telescopes;come with removable 2" adapter;built with metal material;make alignment no longer boring and time consuming
Easy to use;accurate collimation in a few minutes provide a more clearer image;no longer have to go back forth;just watch the collimator from the mirror end of the scope and adjust the screws
7 brightness levels red laser beam;adjustable brightness;suit for different light conditions;amazing alignment in dark and day;so can get the better views possible from your reflector telescope
High quality solid metal body;for a long term use;CR2032 battery included and comes with a full set of instructions with a step by step procedure on how to properly align a relfecting telescope
Lifetime warranty;we confidently promise lifetime warranty for every one bought from us
Product Details:
Product Dimensions: 8.5 x 3.5 x 2.4 inches
Item Weight: 9.9 ounces
Shipping Weight: 11.2 ounces
Item model number: 4331908576
Batteries: 1 Lithium Metal batteries required.
Customer Commitment

We are committed to ensuring your shopping experience with us goes above and beyond. Each order will arrive brand new in its original factory sealed packaging. We use a variety of authorized distributors and fulfillment centers all over the country, which means your order should arrive promptly, regardless of where you live. If for any reason you are not satisfied with your order, please don't hesitate to contact us - we will make it right.

Factory Direct Shipment

Our products ship from several warehouses located throughout the country, which allows us to provide the quickest possible delivery to our customers. Most orders are shipped within one business day with EXPEDITED shipping. Tracking information will be automatically uploaded as soon as the item has been shipped. Please make sure to provide the correct shipping address during checkout as the address cannot be changed after checkout. Since orders are processed immediately after payment and ship very quickly, orders cannot be canceled after checkout. We do not ship to AK, HI, PO boxes, APO addresses, or freight forwarders. Please be aware that all electronic items are designed for the United States (110V). Use outside the United States requires proper conversion to the local volt/hertz system.

Sales Tax

We Do Not Charge Sales Tax on Any of Our Items - COMPARE and SAVE!

Return Policy

Returns are accepted on most NEW and UNUSED products within 30 days of delivery. All returns must be requested through the eBay Return Request process (Do not email, message, etc.) for return authorization and shipping address. Never send a return without opening a return request, as the return address is different from the source address. Items must be returned in the condition they arrived, and with all packaging, UPC code, accessories, product documents, etc. Open software, music, games, movies, personal hygiene products, foods, supplements, and other consumable items are not eligible for returns. Return shipping will be paid for by the SELLER. A 20% restocking fee will apply to all returns except those that are the fault of the seller. Original shipping charges will not be refunded.

Filed under: Eyepieces & Accessories