Current Price: $149.99
Buy It Now Price: $149.99
Bids: 0




Swift 5.0 Megapixel Digital Camera for Microscopes, Eyepiece Mount, USB 2.0 Connection, Color Photography and Video, Windows and Mac Compatible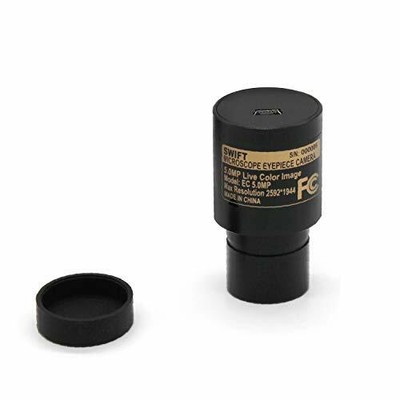 5 megapixel digital eyepiece camera for compound and stereo microscopes; great value for lecturers, instructors, and clinicians to share images with large audiences
Camera connects to computer via included USB 2.0 cord
Easily capture color photos and livestream videos on Windows Vista/7/8/10 and Mac OS X operating systems
Windows-compatible software CD included, offers advanced editing and processing features such as image stitching, extended depth of focus, annotation, measurement, and more
1 year manufacturer's
Upgrade your compound or stereo microscope with this digital eyepiece camera from Swift. At 5 megapixels, this camera option is built as an affordable and easy microscope upgrade. Stream real time, enlarged video of your specimens or capture still, color images to store or share, perfect for serious hobbyists.
Slide the camera mount directly into your microscope's eyepiece tube, connect the USB cord to your computer's USB 2.0 port, and begin streaming live videos or taking still pictures in full color.
Kit includes CD with editing software, compatible with various versions of the Windows operating system. With the program, you can process pictures with advanced editing features, including frame stitching, extended depth of focus, annotations measurements, watermarks, and more.
Features and Specifications:
Megapixels: 5
CMOS image sensor size: 1/2 inch
Maximum Resolution: 2592x1944
Frame rate: 2 fps at 2592x1944, 5 fps at 1600x1200, 7.5fps at 1280x 1024
Responsivity: .53V/lux-sec
Signal-to-noise ratio: 42dB
Dynamic Range: 66dB
Compatible operating systems: Mac OS X (with downloadable application), Windows XP, Vista, 7, 8, 10 (32 and 64 bit)
Included software compatible with Windows operating systems
Weight: 135g
1 year manufacturer's
Packing List:
1 5MP Digital Eyepiece Camera
1 USB 2.0 cable
1 Software and User Instruction CD


Customer satisfaction is very important to us.
If you have any problem with your order, please contact us and we will do our best to make you satisfied.
Please visit our eBay store to check out other items for sale!
Thank you for shopping at our store.
♥ ♥ ♥


Filed under: Eyepieces & Accessories