Current Price: $147.15
Buy It Now Price: $147.15
Bids: 0

:: eBay Listing Template ::

Thousand Oaks Optical SolarLite Solar Filter for Telescope, fits Celestron S9187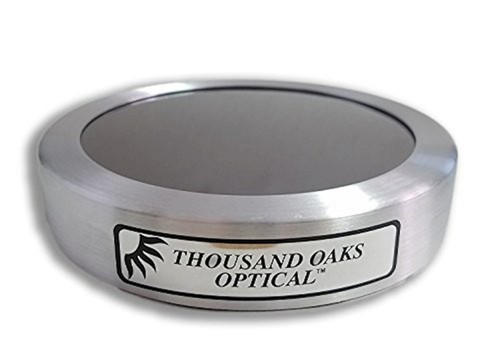 For lots of other items, visit My Store
Description
SOLARLITE Filters: NEW (Best Value) After years of R & D we have developed a new solar film that has the optical quality of the glass with the advantages of impregnated polymer (Thousand Oaks Optical Black Polymer). Will never develop pin holes or scratches that can let in light and ruin a filter. Other advantages: Light weight and does not require re-balancing tube assembly, will not break, consistent yellow-orange solar image, even density with any aperture, flat surface compared to other thin film filters that have wrinkles and creases. Will not tear or puncture. Stronger than any other solar film on the market. Also available in sheets. Guaranteed 15 years.
Features
Make sure this fitsby entering your model number.236mm9.312" SolarLite Filter for 203mm8.00" instruments. This filter should fit the following models: Celestron and Meade 8" Schmidt Cassegrain and instruments of similar outer diameter. (Will not fit the Meade Light Switch 8" S/C due to the OTA arm). Part number S9187.Please read carefully: 236mm9.312" is the diameter of the filter. The filter fits like a cap by friction. To be absolutely sure that the filter will fit, please measure the outer diameter of your instrument and make sure that it is not larger.SolarLite filters have the optical quality of the glass with the advantages of impregnated polymer (Thousand Oaks Optical Black Polymer). The sun will appear in a natural yellow-orange color when viewed through your telescope using this filter.This is a high quality product of Thousand Oaks Optical (Arizona), a manufacturer of safe solar filters for over 30 years. Words of the producer: "Stronger than any other solar film on the market. Safe for 15 years."WARNING: ALWAYS MAKE SURE THE FILTER IS WELL ATTACHED TO THE TELESCOPE/BINOCULARS/CAMERA. IN CASE NECESSARY, USE STICKY TAPE TO SECURE IT. NEVER OBSERVE SUN WITHOUT A PROPERLY ATTACHED FILTER.
Additional Information
Manufacturer: NA
Shipping Weight (pound) : 0.0
Shipping Dimensions:
Width: 0.0
Length: 0.0
Height: 0.0
Free shipping to the continental USA! Most items will ship within 24 hours.
All items ship from the USA!
For more items, visit My Store
Payment
We accept Paypal only.
All purchases require instant payment.
All major credit cards are accepted through Paypal's secure payment system.
Pay worry free - Paypal offers both buyer and seller protection against fraud.
Returns
We provide a 30 day return policy for a full refund.
Some items, such as food, may not be eligble for return.
Returned items must be in original packaging and in original condition.
We do not cover postage for returned items.
Please allow 7 days after we receive your returned item to process the return and refund.
Shipping
Items will be shipped by USPS, UPS, FedEx, or other carrier depending on your location and package weight.
All items are shipped from the USA.
Our handling time is 2 business days to prepare your package. Please allow up to 4 additional business days for your package to arrive. If you choose upgraded shipping, please allow 2 business days in addition to our handling time.
Our Guarantee
We offer a 100% Satisfaction Guarantee on all sales. If you are not happy with your purchase for any reason, please contact us within 7 days of receiving your item. We will happily work with you to find a solution to any problem.
We want your eBay experience to be a good one. As you can tell from our feedback, almost every customer is a happy one.
Our goal is always a satisfied customer. In the rare case something goes wrong, before leaving negative feedback, please contact us so we can help make it right!
By committing to buy you are agreeing to the Terms & Conditions stated above.
Filed under: Eyepieces & Accessories