Current Price: $14.99
Buy It Now Price: $14.99
Bids: 0

New
Version with Handsfree controllor Universal Cell Phone Adapter Mount -
Compatible with Binocular Monocular Spotting Scope Telescope and Microscope -
For Iphone Sony Samsung Moto EtcBuy it Now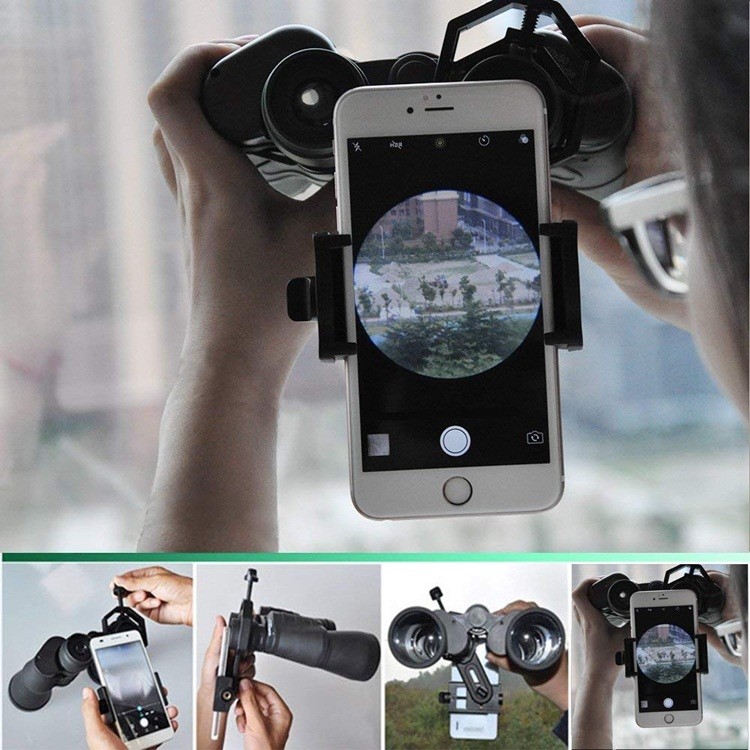 Product description
2018 New Version with
Handsfree controllor Universal Cell Phone Adapter Mount- Compatible with
Binocular Monocular Spotting Scope Telescope and Microscope - For Iphone Sony
Samsung Moto Etc
Get Your Mobile Phone Into Video Camera and Image Capturer in Distant of the
Universal Cell Phone Adapter Mount, Tiny World .
Explore the nature of the world easily through your screen.
Are you still using a heavy phone adapter on your fancy eyepiece?
Are you still using a flimsy phone adapter for fear that it would slip out?
Are you bored with your complicated phone adapter, rotating the screws again
and again, adjusting the position over and over?
Here comes our newest generation smartphone adapter for optical devices.
Features:
Compliable with Binocular, monocular, telescope, microscope, spotting scope,
night vision and most optical device. Fit eyepiece diameter 1-1.9inch. Not fit
2inch eyepieces.
Universal:
With super large width range: 2-4 inch, Fit iphone 7plus,7, 6plus, 6,5s,5,
Samsung Note , Sony, Sony Xperia Z and many other brands . Adjustable clamping
force -- The phone clamping part features adjustable locking mechanism with a
steel bolt (not a spring).
This part can separately mounts on any standard tripod (1/4-20) .
Phone is well protected by High density EVA pads and nothing contacts your
phone's screen. Durable metal
materials: Mainly made of Aluminum. Part made of high strength PA plastic. One
time purchase for long-term use Compact and Light Weight:
1.4"x3.2"x6.2"(LWH), 5.8oz. Color: Black
Please make sure that the outer diameter of the eyepiece is between
25mm-48mm(1.0-1.9").
Package Include:
1Xsmartphone adapter?with update instruction?
1XCamera Shutter Wire controller 43"
1XClean Pad 8"*8"
Thanks for visit our store!
Filed under: Eyepieces & Accessories