Current Price: $12.20
Buy It Now Price: $12.20
Bids: 0

Universal Cell Phone Adapter Mount For Telescope Microscope Spotting Scope Kit
Universal Cell Phone Adapter Mount For Telescope Microscope Spotting Scope Kit
Domestic Shipping is FREE and usually, takes 2-3 businesses days!
Product Features
55 to 100mm has been tested fits iphone;iphone 5;5s;6;6 plus;7;7plus;Sony;Sony Xperia Z;Samsung Note;Samsung Galaxy S7;Galaxy 7;Galaxy 5;Galaxy Note 5;Samsung Note 4;ECT;Moto G5+ and many other brands
Fits eyepiece diameter from 25 to 48mm and 1.25" telescope;not fit 2" eyepieces;compatible with microscope;telescope;binoculars;monocular;spotting scope;night vision monocular and most optical device
Aluminum alloy shell;sturdy durable and lightweight;the phone clamp made of high strength PA plastic and features adjustable locking mechanism with a steel bolt not a spring
Works great for the phone in the up and down position taking pictures and recording sideways or in distant;keys capture the best videos of world successfully is practice and patience
SVBONY phone clamping features adjustable locking mechanism with a steel bolt (not a spring); Phone is protected by High density EVA pads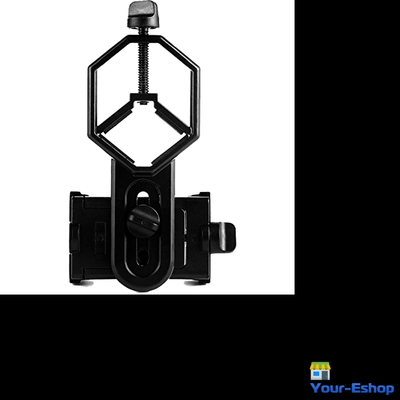 Payment
We accept Paypal.
Shipping & Handling
Domestic Shipping within continental US usually takes 2-3 days
For International Shipping please refer to Shipping & Payments tab above, the buyer is responsible for any applicable import duties.
Returns & Exchanges
We offer 30 days free domestic returns! International buyer responisble for returns shipping costs.
Universal Cell Phone Adapter Mount For Telescope Microscope Spotting Scope Kit
Product Details
SVBONY universal cell phone adapter mount makes it easy to position a point and shoot for high magnification photography
Make your mobile phone into a video camera and images capturer;so that you can explore the nature world easily through the screen
Operate flexible
After the adapter and the phone attached;you can loose the screws tightening the eyepiece and rotate the adapter
Keep the device from scratch and damage
Contact surfaces to connect phone is covered by soft material further protects against the device damage
Sturdy and durable
Aluminum alloy material;strong sturdy and durable
Use specification
Super large width range from 55-100mm;it fits iphone;Samsung;Samsung Note;Samsung Galaxy;SONY;SONY Xperia and almost other brands
Package includes
1xSVBONY universal phone adapter
Why Choose Your-Eshop?
30 Days Return Policy
You can return the items within 30 Days! So why hesitate?
Fast & Free Domestic Shipping
At Your-Eshop, domestic shipping is FAST and FREE!
Commitment
We are committed to making sure that you leave this transaction satisfied. Please feel free to contact us!
Your-Eshop - Your shop for the best Value!
Filed under: Eyepieces & Accessories