Current Price: $250.20
Buy It Now Price: $250.20
Bids: 0

idsmgroup
Store
Home Contact Us
Store
Home
New
Arrivals
View
All
items
Feedback
Contact
Us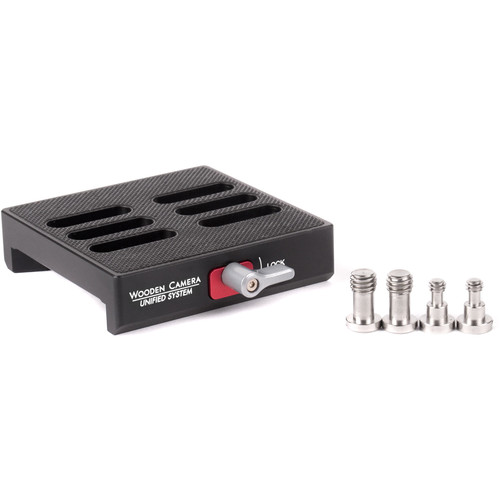 Wooden Camera Dovetail Clamp, Attach Camera/Accessory to ARRI Dovetail 156700
Price: 250.00 USD
-NEVER USED BRAND NEW SYSTEM
-Full Hardware Warranty
Add to
Watchlist
Ask a Question
Add us to Favorites!
Description
Wooden Camera 156700 Overview

The Wooden Camera Dovetail Clamp allows you to attach cameras, baseplates, or accessories to an ARRI standard dovetail. It features slots at multiple locations for inserting mounting screws from underneath, and comes with two 3/8"-16 and two 1/4"-20 low profile screws.

About Us
Welcome to International DSM Group, Inc.
International DSM Group, Inc. provides
comprehensive work-flow solutions to address all the
media-specific challenges of professional editing,
motion graphics, special effects, animation, audio
production and multimedia content creation.
We now offer a wide selection of rental and
rent-to-own equipment solutions, technical support
and spare-parts service, as well as lease-purchase
financing, to qualified buyers.
International DSM Group, Inc. is the
Hollywood market's premier supply source for all the
most modern, maximum-performance post production
equipment. Our aggressive rates, combined with
knowledgeable, uncompromising service and support
quality enable you to complete any project, on-time,
on-budget, top-class, from A to Z.
International DSM Group, Inc. clients
include the film studios, independent cinema
production, TV studios and discerning corporate
clients across five continents, and counting -
quotes and references available immediately, on
request ! Film In - Film Out and everything in
between That's what Digital Systems Media is all
about.
International DSM Group, Inc. is the
driving force of digital media, leading competitive
price/performance values throughout the industry,
worldwide !
International DSM Group, Inc. is a stocking
dealer for all the latest authorized PC and
Mac-based AVID systems and components, with years of
practical experience to back you up in even your
most extensive and demanding digital workgroup
systems integration of Avid technology, as well as
cross-integration with other NLE, pro-audio and
graphics implementation for total workflow
performance.
The world's most renowned editing system at a
breakthrough price point.
Avid is Avid. And International DSM Group is the
place for you to get it.
Professional studio facilities, broadcasters,
filmmakers, editors, graphic artists, DVD authoring
and encoding specialists, new media creators,
students... is there anyone who doesn't need an
Avid?
That's what International DSM Group is all about.
Payment
Paypal or wire transfer guarantees immediate
shipping upon receipt and verification.
Payment must be received within 3 days of the
closing auction
Shipping
Buyer will pay actual shipping costs, including
extra for packaging only if needed.
Shipping costs based on weight TBD after auction.
Item(s) will be shipped via USPS, UPS, & FedEx.
(Insured)
Store
Home About
Us Our
Feedback


© International
DSM
Group All Rights Reserved.
Filed under: Eyepieces & Accessories